This Sunday Supper is all about Spring! I love spring! It is my favorite season! Out with the cold weather and in with the warm!
When I think of spring I think of flowers, baby birds, Easter, trees full of green again, and of course St. Patrick's day! I do not really know much about St. Patrick's Day other than everything is supposed to be green. It was always fun growing up trying to plan my outfits to make sure I was to never be pinched! Now that I am a housewife with nowhere to go, my food has to be the same way. I want green, delicious, and creative ideas for St. Patrick's day dinner.
When I was trying to come up with green food ideas the first thought I had was Watergate Salad. "Green Stuff". I was introduced to this a few years ago and LOVED it! It a sweet chilled dessert, perfect for cookouts, and SUPER easy to make. Plus it has my favorite ingredients...marshmallows and cool whip! MMMM!
This "green stuff" is delicious! I have been trying to get my husband to try it but since it has pineapple he refuses :( I froze it and made it into ice cream (his favorite thing) so maybe now I have a chance ! I'll let you know how it goes!
.
Watergate Salad
By: Crystal Barrett
Ingredients
1 - 3.4 oz package of JELLO Pistachio Pudding mix
1 - 8 oz package of Cool Whip
1 cup nuts. I used walnuts.
1 can of crushed pineapple. Do not drain!
1 cup of coconut
1/2 of a bag of mini marshmallows
Directions
Mix the pudding mix very well with the package of Cool Whip.
Add pineapples, nuts, coconut, and marshmallows.
Refrigerate for at least an hour.
*If you want the salad in ice cream form just freeze in the freezer for a few hours.
Enjoy!

Happy St. Patrick's Day!!
#SundaySupper Spring Recipes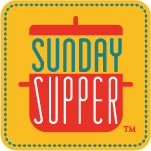 The warm weather is creeping in (did you smile, I sure did!) and our first day of Spring, March 20th, is right around the corner! Let's warm up around the table with our friends from our #SundaySupper team and share delicious spring time recipes! Whether it's St. Patrick's Day green, green food or spring inspired, our group sure has a menu to please your taste buds!
Green and Spring Dishes Menu Includes:
Breakfast
Apps, Bread, Salads, Soups and Dressings:
Main and Sides:
Desserts
:
Beverages
:
All you have to do is follow the
#SundaySupper hashtag
, or you can follow us through
TweetChat
!